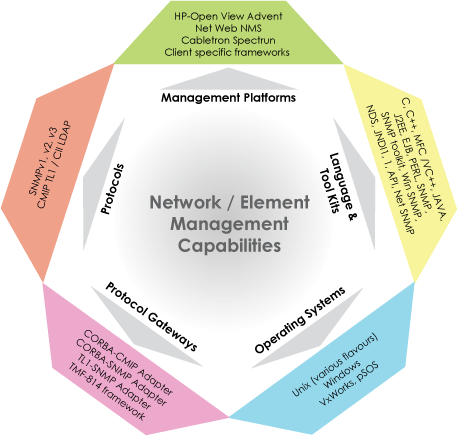 Network Management
The convergence of voice, video and data networks has resulted in increasingly complex networks consisting of heterogeneous nodes coming from multiple vendors. Maintaining uninterrupted networks all the time has always been a critical job and the onset of new age technologies and converged networks has made the job of Network Operators very challenging. Today's Network Operators need to be proficient in using vendor specific network management tools and they have to synchronize these with other in-house developed tools to have a comprehensive network management system that manages the network at all levels: from the network elements to enforcing policies on the entire network.

MARS offers services for out-sourced product engineering, testing and maintenance in the NMS space. We undertake full life-cycle software development, provide robust change-ready architectures, system design, detail engineering, implementation and testing, post-delivery support and complete project management.

MARS helps the Client's to develop applications that simplify and automate complex Network Management functionality by using intuitive and easy-to use software applications. The use of distributed technologies helps in managing networks remotely without compromising security. Whether it is a new product line, enhancements to existing products, maintenance and testing,MARS is the right outsourcing partner for your Network Management solutions.